What is Mass Notification?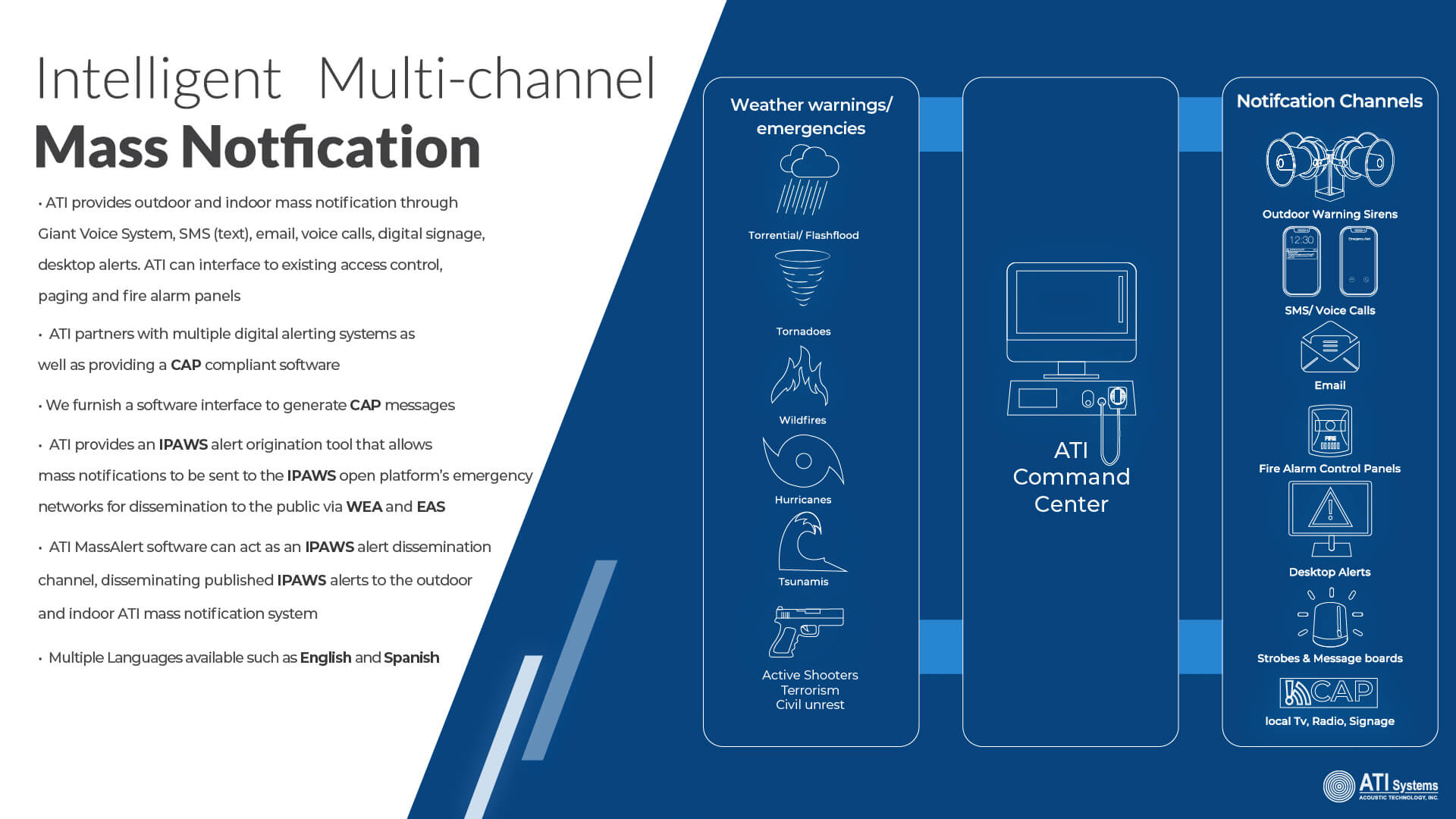 Critical Event Management
When emergency strikes, communication is vital. How well is your community equipped for an emergency? Mass Notification systems (MNS) allow for communities to be informed with clear and concise messages. ATI Systems allow for critical event management for every market. Intelligible Instructions in crisis situations are crucial for mitigating damage. To create a successful alert notification system one must account for each distinct site need's. ATI Systems develops unique emergency communication systems (ECS) that have flexible deployment and communication methods to ensure the safety and well being of all members of your community. Whether designing a mass notification system for governments or for private use, ATI Engineer's design the best mass notification system for the job. 
What Makes ATI Systems MNS different?
Detect incidents and activate alerts on the world's most trusted Notification platform
ATI Systems presents users unparalleled Outdoor and Indoor Notification Power. Through a clever balance of digital, audible, and visual alerts, ATI's intuitive platform has become the world's most trusted emergency response solution. ATI's Engineer's work closely with emergency managers to create site specific solutions that are time tested. From daily enterprise communication to emergency alerting, ATI builds powerful solutions that are easy to deploy. Whether you are looking for a new system or to integrate with an existing system ATI has you covered.
Why Choose Acoustic Technology Inc?
Emergency Mass Notification Relied on Across the World
Critical mass notification solutions
ATI Systems engineers solutions used internationally in some of the world's most critcal sites
A name trusted for over 40 years
Pioneering Enterprise Mass Notification
From its early days as an acoustic consulting firm to today ATI has been dedicated in providing only the best acoustic notification systems possible regardless of the situation.
ATI's staff is constantly  improving and expanding our quality management systems. Through strict adherence to ISO 9001 protocol we hope to meet and exceed customer expectations.
Bespoke Engineering Solutions to Meet your Jobs Vital Needs
From its early days as an accoustic consulating firm to today, ATI is dedicated to providing only the best acoustic notification systems possible 
Modular Emergency Communication solutions for Diverse Mass Notification Systems MNS Applications
An Effective Emergency Mass Notification System is Multilayered
Modern Emergency Alert Systems require multiple communication methods to ensure messages are made effectively. Digital Alerts are great, but outdoor notification has been shown to be the most effective means of communicating to communities. Luckily ATI Offers multilayered notification methods. 
ATI Is Certified by FEMA as an IPAWS Originator
ATI Systems works closely with FEMA's Integrated Public Alert and Warning System program providing certified clients the ability to easily connect to national alerting systems.
Critical Communications Methods
Secure emergency communication means
Connect via Radio, Ethernet, Fiber optics , Cellular, Satellite Modem, closed contact, P25 Radio and more. Communication between system components is done using secure 256 bit AES encryption technologies for reliable operation. Ensure secure two way communication for whatever critical deployment scenario.
An emergency mass notification for any situation
Flexible on the grid and off the grid power sources ensure our systems stay powered no matter what the situation is. Rest assured knowing that proper power supply and power storage is available for our systems. In addition solar panels and additional power sources can be Integrated with ease.  
Realtime System Maintenance
Detect issues with real time alerts
Intelligent sensor technology makes our systems easy to maintain by giving you real time field updates and service reminders
Get the right message to the right people
Get the message to the right groups during an emergency. ATI Systems provides efficient means of dissemination of messages to specific groups as well as allowing for users to make different messages simultaneously to separate locations.
Intuitive mass notification
Although our systems may be composed of limitless components, ATI ensures easy intuitive activation methods. We believe being able to instantly notify all, or specific groups of people is a vital feature of effective emergency notification systems. ATI push button activation ensures this. Customize your organization's activation methods with the comfort of knowing that ATI provide's user friendly activation methods in addition to advanced techniques.
List activation methods
Pre-set Alerts And Live PA
Notify with ease in any situation
Effortlessly setup pre-set alerts for customized groups. Our software engineers will also make modification to ensure we have a solution for whatever need you have including
"Mass notification provides real-time information and instructions to people in a building, area, site, or installation using intelligible voice communications along with visible signals, text, and graphics, and possibly including tactile or other communication methods. The purpose of mass notification is to protect life by indicating the existence of an emergency situation and instructing people of the necessary and appropriate response and action."