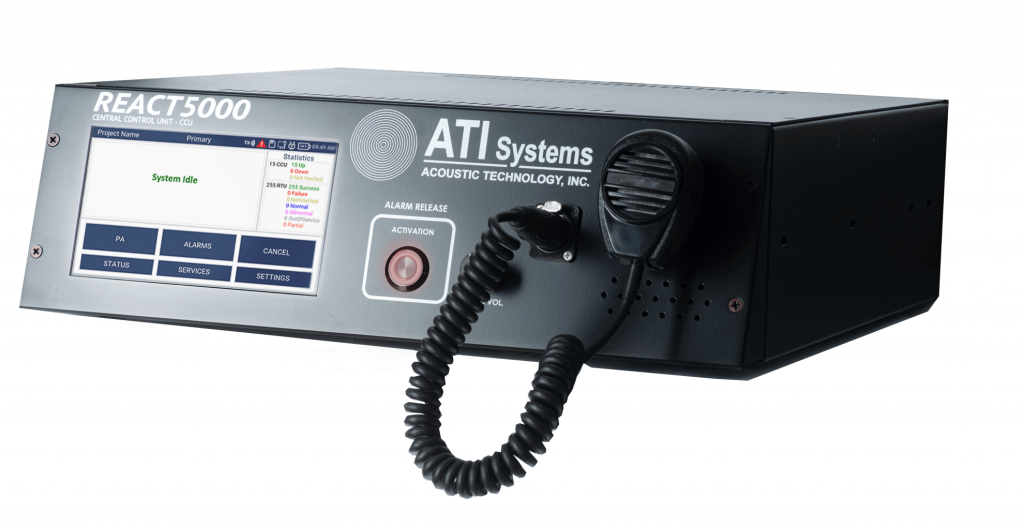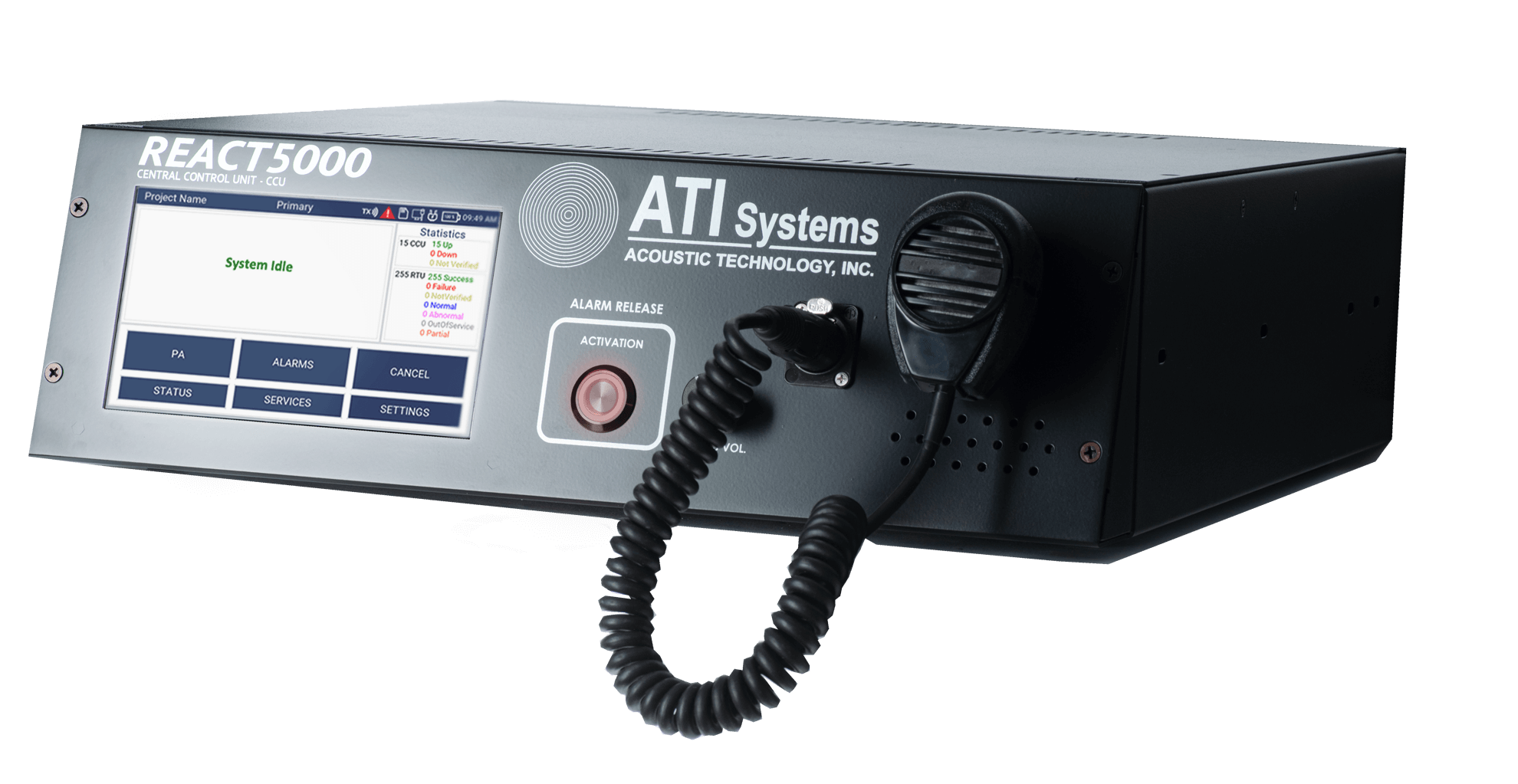 Enhanced Control and Monitoring Power
ATI's next-generation REACT5000 Central Control Unit
(CCU) provides enhanced control and monitoring of
ATI remote units such as the Indoor Speaker Unit (ISU)
and the High Power Speaker Station (HPSS). It serves
as a key component in the creation of a powerful and
flexible Mass Notification System (MNS). An intuitive
touch screen interface allows for the activation of tone
alerts, pre-recorded voice messages, or live PA, and
displays the status of remote units.
The emergency response system may be used in conjunction with ATI's MassAlert® software for complete control of complex multilocation Mass Notification System applications, but may also be used as a standalone controller for smaller systems. The REACT5000 supports multiple simultaneous communication paths to provide the most robust notification system available. It supports a wide variety of I/O protocols for simple interfacing to 3rd party systems and optional accessories. IPv4/IPv6 support with improved security features to provide the most secured communication link between the REACT5000 and other ATI units. Multiple form factors are available for maximum flexibility in mechanical mounting and battery back-up power allows complete control of your system in the event of electrical outages.
Easy to be configured through its hosted WEB interface with support for secured http (https)

 

7" VGA touch screen with powerful GUI allows user to control and monitor system

 

Multiple form factors available: all in one CCU or smaller desktop CCU with remote mounting of radio

 

Built-in speaker and desktop microphone

 

Simple interfacing to other systems via USB (host/device), RS232, RS485, and CANbus

 

Additional ports for flexible low-level interfacing: line-level audio input/output, relay connections, opt isolated inputs, and monitored push-button inputs

 

Upgraded security and authentication

 

IP (Ethernet), radio (UHF/VHF), fiber, twisted pair/phone-line, satellite, and cellular options

 

available for convenient, redundant communication paths to remote units*

 

Backup power options: 7AH UPS or battery

 

Supports up to 45 Watt UHF/VHF mobile radios from various manufacturers including trunked radios*

 
* ADDITIONAL HARDWARE/FIRMWARE MAY BE REQUIRED.