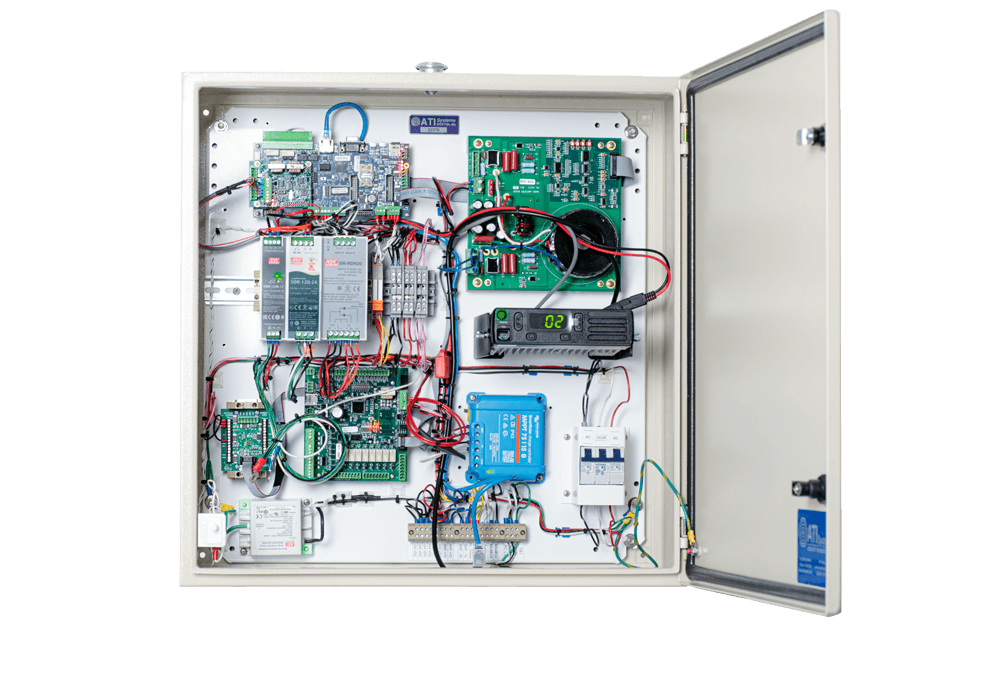 Revolutionizing Mass Notification
When an emergency strikes, effective dissemination of information in a timely manner can be critical. Intelligible voice messages can cover a wide area to alert and direct a large number of people in a short time.
Indoor units: MNS systems typically cover large outdoor areas but it is also important to alert people inside the buildings. The ISU is a successor to ATI's existing Indoor Speaker Unit (ISU) and offers customers more intelligent, flexible solutions to indoor MNS.
The Indoor Speaker Unit (ISU) provides flexible answers to critical indoor Mass Notification requirements
Acoustic Technology Inc (ATI), a recognized leader in the design of Mass Notification Systems (MNS), continues to innovate to provide our worldwide customer base with improved solutions to these demanding applications. We are pleased to announce our new Indoor Speaker Unit (ISU) which provides more flexible, intelligent end points in an ATI Mass Notification System. ATI currently provides the Indoor Speaker Unit (ISU) which can drive MNS speakers in buildings which do not already have a voice capable system installed. It is also becoming more common to interface to 3rd party equipment such as PA systems and voice enabled Fire Alarm Control Panels when they already exist in a building. In either case the ISU offers a modular, intelligent solution which can be configured for a wide range of in-building MNS requirements. The ISU takes full advantage of ATI's Intelligent Control Gateway (ICG). The ICG provides a powerful control unit with a flexible set of interfaces including Ethernet, USB, serial ports and a variety of ATI specific interfaces. The 8-bit legacy CPU of older units is replaced by a 32-bit ARM based microcontroller with improved firmware including a modern IP stack for the Ethernet port as well as advanced encryption hardware.
The base configuration of the ISU includes the ICG, a basic power supply and batteries. This can be enough to support a simple interface to 3rd party units such as a PA system
a 400-watt amplifier to drive speakers (70-volt or 8-ohm outputs)
an expanded IO board with additional relays and inputs
a variety of modems and media converters for flexible IP communications
a power converter and interface to support a 25-watt UHF/VHF radio for longer distance communication
Solar Charger Controller. Although primarily an indoor unit the ISU is available in a stainless-steel cabinet for outdoor use where solar power can be a convenient option.
Remote LOC (Local Operator Console) interface. The LOC provides a small LCD screen and membrane switch panel for local control
The ISU can be controlled and monitored entirely from the remote CCU where local control is not desired. However, the unit can also be equipped with one or more LOCs. The Local Operator Console allows local control and activation even if communication to the CCU is interrupted and usually includes a microphone for local live PA.
Multiple LOCs may be connected to one ISU depending on power and distance restrictions. A large building may have multiple units. An LOC attached to one ISU can trigger all the units in that building without going thru remote CCU, again improving system resiliency.
Multiple communication options can connect the ISU to the Control Station including IP links (Ethernet, optic fiber, cell modem and satellite modem) as well as UHF/VHF radio. While requiring a licensed frequency and having limited bandwidth, 25-watt UHF/VHF radios allow system control over a fairly large area independent of 3rd party infrastructure such as wired network, cell towers or WiFi access points. ATI also supports having multiple communication paths (for example Ethernet LAN and UHF/VHF radio) operating simultaneously in parallel for the very highest system reliability.
The main purpose of these units is to provide building occupants with alerts and information in emergency situations, typically using prerecorded messages or live PA. The ISU can be ordered with an amplifier which can drive a large number of 70-volt wall or ceiling speakers in buildings that do not have installed voice capability.
In buildings which already have a voice enabled Fire Alarm system or a PA system, the ISU can assert a relay to enable the 3rd party unit and provide line level audio into an auxiliary input. It can be equipped with additional relay outputs and inputs for contact closures which can be configured to provide control and monitoring of various external equipment such as HVAC shutdown, gate control, perform handshaking, etc. Multiple activation sources can be assigned priorities that match system requirements.
The ISU can also be configured to drive strobes where visual alerting is required. It is also an option to drive digital signs to provide text messages in addition to the voice alerts.
The increased intelligence and modularity of the ISU compared to the older units provides more options for meeting the customer's needs in a flexible and efficient manner. This offers improved indoor MNS capability. Along with the HPSS for outdoor needs and the REACT5000 and MassAlert for control and monitoring, ATI can provide customers with complete indoor/outdoor wide area MNS solutions.
* ADDITIONAL HARDWARE/FIRMWARE MAY BE REQUIRED.
** ONLY IN WEB AND DESKTOP MASSALERT® CLIENT.