St. Clair County getting new warning system after years without tornado sirens in some areas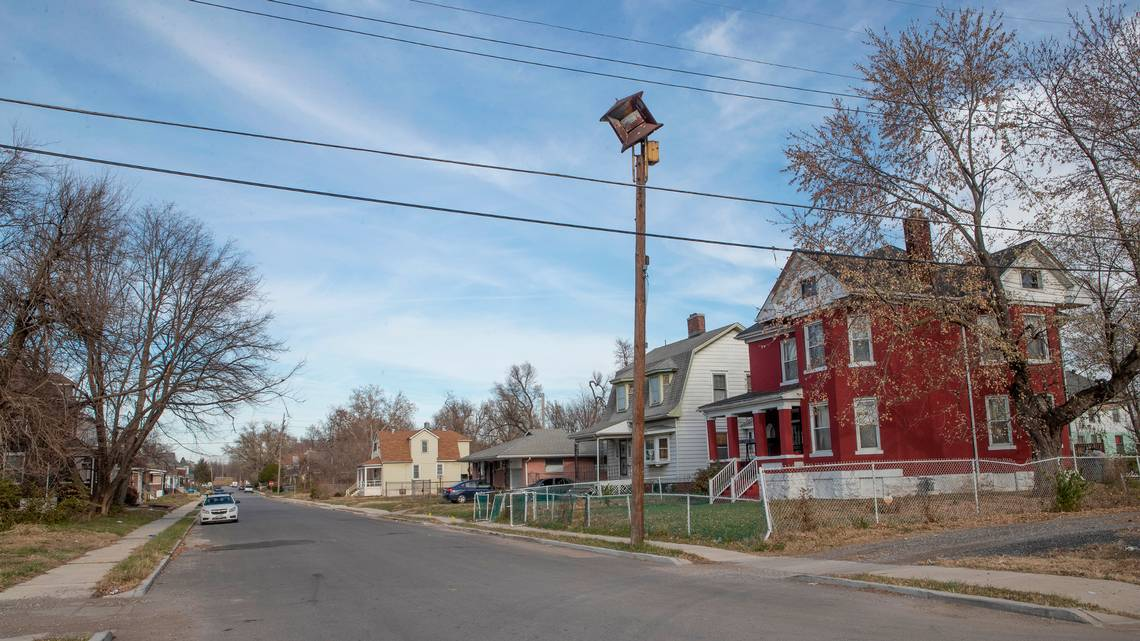 A siren in the 600 block of N 22nd Street in East St. Louis does not work. DERIK HOLTMANN [email protected]
St. Clair County will have a new, countywide warning system for dangerous weather by spring after residents in some communities have not heard sirens sounding for years.
East St. Louis and Cahokia Heights have sirens, but they stopped working two decades ago. Sugarloaf Township, St. Libory and Lenzburg don't have them at all.
The county has signed a $2.49 million contract with Acoustic Technology, Inc. Systems to replace 79 existing sirens across the county and install 43 new ones. Federal relief funds from the American Rescue Plan will pay for the sirens.
The action comes after severe weather events hit the metro-east during the past year.
A December tornado killed six people at an Amazon warehouse in Edwardsville.
One day in May, three separate tornadoes touched down near Lebanon, Breese and Okawville. Wind from the storms ripped the roof off of a Belleville church.
And July flash flooding damaged hundreds of homes, with the worst of the damage in the East St. Louis area.
Sirens alert people who are outside that dangerous weather like a tornado or severe storm is approaching and they should head inside. The county's new sirens will sound when the National Weather Service puts out an alert.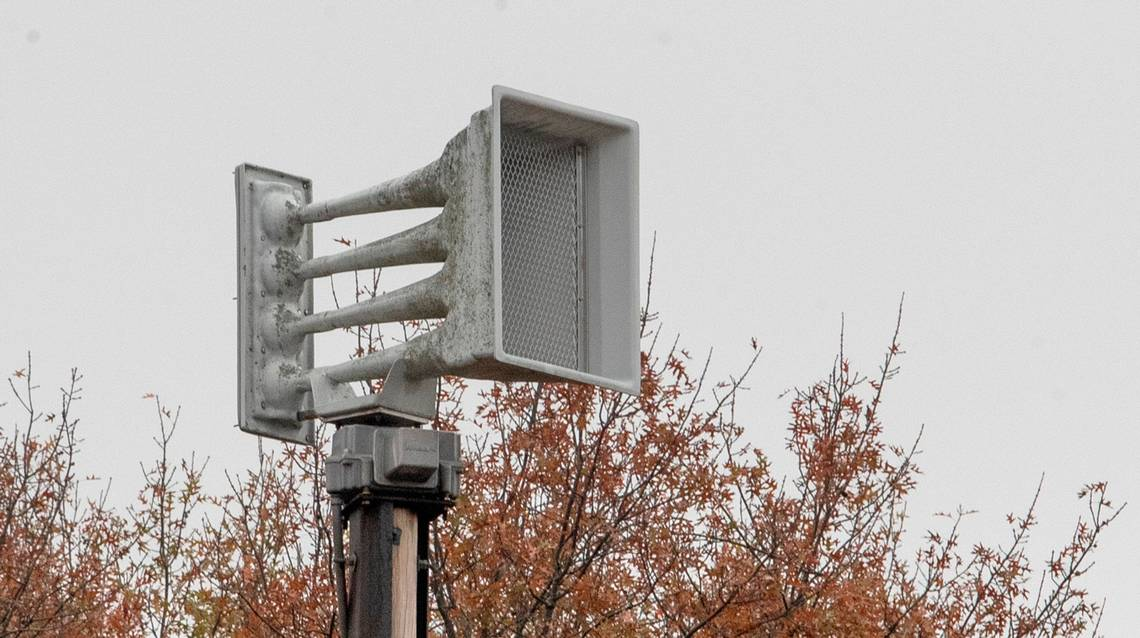 A rotating siren located at the entrance to Laderman Park in Belleville, Illinois. Derik Holtmann [email protected]
Officials are expecting the sirens to be installed by the end of May or early June, according to Herb Simmons, director of the St. Clair County Emergency Management Agency.
It's welcome news to Laura Rosenkranz. She has been advocating for sirens to be installed in Sugarloaf Township, East Carondelet, Dupo and Cahokia Heights since 2008, when her family bought a house in that area.
"That just seems like one of the basic services that a community should offer," she said.
While Rosenkranz was advocating for sirens, communities across St. Clair County started using the mobile weather alert system CodeRED. But Rosenkranz doesn't think it's enough because residents might not have a phone, its battery might not be charged or service might go out during a storm.
 "I kept getting told that CodeRED is adequate. In theory it's available to anyone, but you have to be able to access it," Rosenkranz said.
St. Clair County's agreement with Acoustic Technology, Inc. Systems will provide outdoor warning coverage to every community, unless officials opt out of installing sirens.
The company determined where sirens should be installed by conducting an "acoustic sound study." It took into account population density and predictions about how sound would travel through the atmosphere and around things in the environment like trees and hills.
In addition to the new sirens for communities that don't have them now, the study showed additional sirens were needed in Belleville, Fairview Heights, O'Fallon, Shiloh, Millstadt, Lebanon, New Athens and in the portions of Collinsville and Columbia that are in St. Clair County, according to Simmons.
Officials from East St. Louis and Cahokia Heights said their cities' sirens fell into disrepair because leaders put off maintenance as they faced financial challenges or prioritized other issues.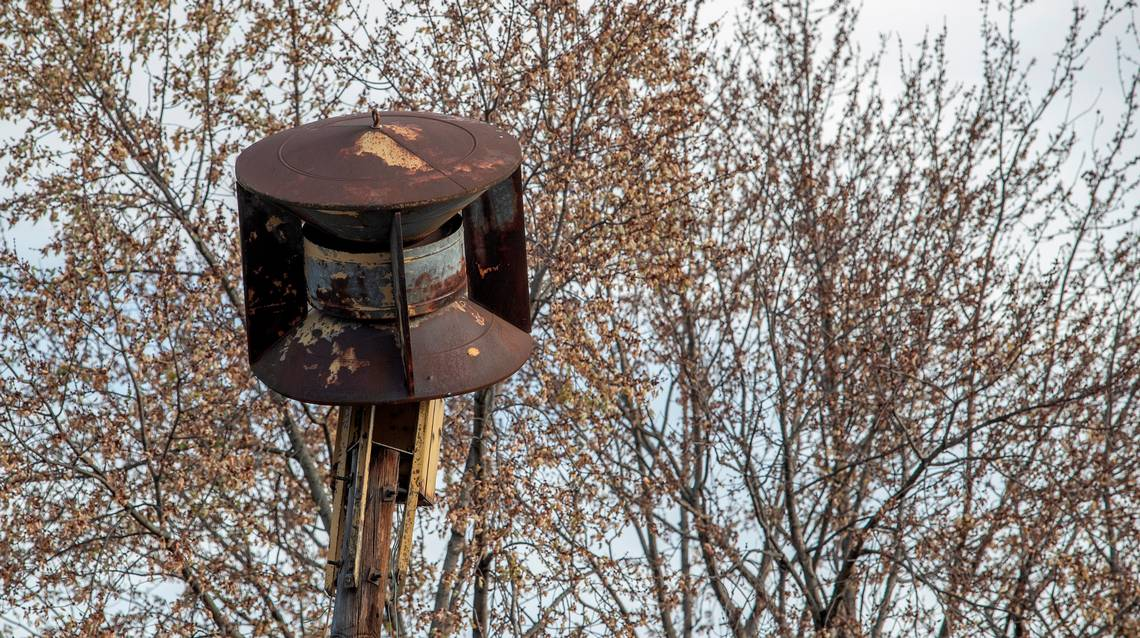 A siren in the 600 block of N 22nd Street in East St. Louis does not work. Derik Holtmann [email protected]
East St. Louis Mayor Robert Eastern III said his administration has been working to get sirens for the city since 2019, when he was elected.
Eastern sees a reminder of the issue almost every morning. He said an inactive siren sits on a telephone pole around the corner from his home.
Acoustic Technology, Inc. Systems had already completed an acoustic sound study for East St. Louis and gave city leaders a $387,000 price tag for sirens when St. Clair County got involved, according to public safety official Lee Coleman.
Coleman is the Emergency Services Disaster Agency deputy director for East St. Louis.
"We are terribly ecstatic that we're gonna get them and at no cost to the city," Coleman said.
Cahokia Heights Mayor Curtis McCall Sr. said that while sirens are important, the city has been facing more pressing issues. He said his top priorities since being elected to the newly-incorporated city have been the water and sewer infrastructure.
For years, residents in the former village of Centreville have struggled with flash flooding, raw sewage in their homes and yards and drinking water they don't trust. Centreville, Alorton and Cahokia merged in 2021 to become Cahokia Heights.
McCall said cash-strapped communities like Cahokia Heights need help from county, state and federal governments with costs the tax base can't handle on its own, like repairing sewers and sirens.
After a three-year warranty from Acoustic Technology, Inc. Systems, St. Clair County will be responsible for the sirens' annual preventive maintenance. It expects the maintenance to cost $25,000 per year.
Repairs or replacements will be each community's responsibility.