ATI Unveils Transportable High-Powered Speaker Station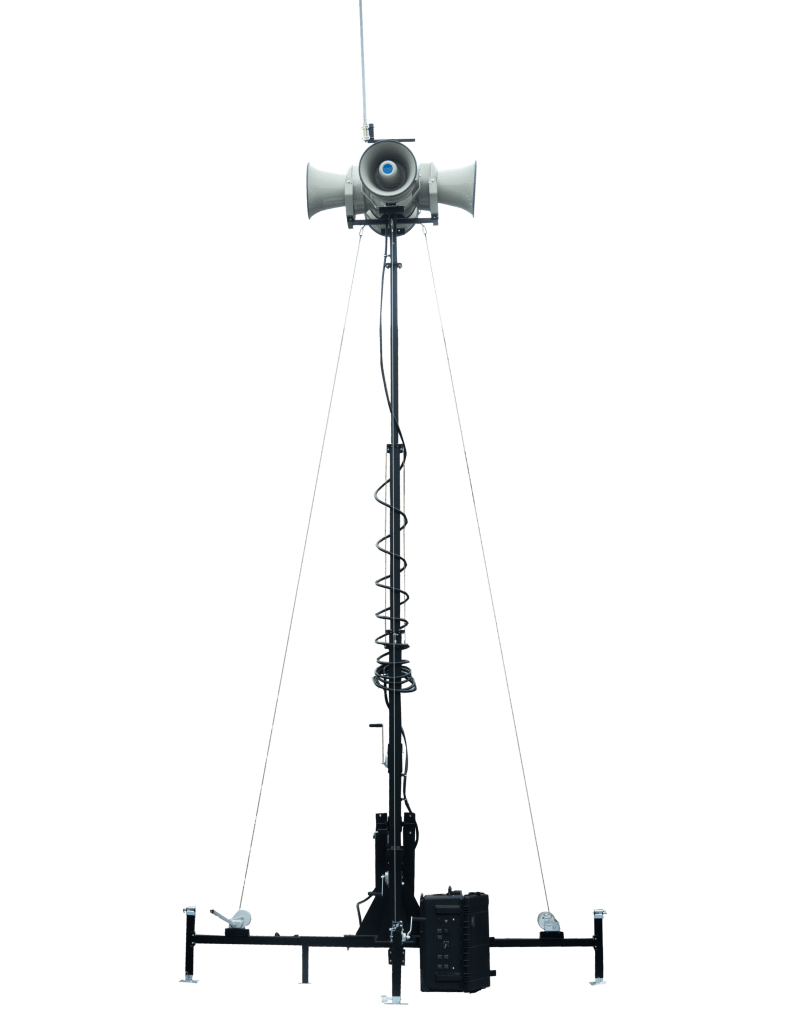 Acoustic Technology, Inc. (ATI Systems), a world leader in reliable emergency warning and notification systems for the campus, community, industrial, and military markets, is pleased to announce the Transportable High-Powered Speaker Station (THPSS).
An emergency can happen anywhere and when every second counts, the most effective area-wide warning is an intelligible voice message with information and instructions.
The Transportable High-Powered Speaker Station (THPSS) is a new product for outdoor situations that require the durability of a permanent solution, but also transportability for a temporary situation.
A wide area giant voice system utilizing the THPSS can be deployed in a matter of hours instead of the months required to construct a permanently installed system.
This provides a great communication system advantage for any geographically dynamic project such as military emergency operations, oil and gas exploration and national border security requirements.
Temporary permanent is the new normal in more and more situations today, and the THPSS is the answer to that that demand.
The THPSS is an easily portable and rapidly deployable solution for mass notification.
It provides 1600 Watts of continuous audio output power for reliable alert tone notification and delivery of pre-recorded messages in emergency situations or for public address.
The THPSS is designed for temporary usage including military installations, sporting events, large public gatherings, construction sites, and locations where a permanent mass notification system is not cost effective.
The THPSS includes four 400W speakers (with cases), an easy-to-setup 20-foot mast system, a 1600W transportable amplifier with built-in local operating console (TALOC), external battery cases, as well as all necessary audio and power cabling kits
These units have the rigid construction and weatherproof components required to withstand any type of weather and wind gusts, acting like a more permanent installation.
The THPSS is specially designed with a wide, heavy base keeps the mast and speaker array stable in bad weather. Each THPSS includes its own mast with rigging for guy-wire to securely fasten in place.
Ease of transport and rapid deployment were also major design considerations for the THPSS. Its unique design makes assembly much easier enabling installation to be completed within a few hours.
The external 12V 100AH batteries power that each unit only require a trickle charge from solar, AC or a generator to maintain the charge to power the sirens.
THPSS units can act as individuals or as part of a larger system. Each has a built-in touch screen to support individual activation and control from the base of the device itself.
For a larger system, ATI Systems also manufactures a Mobile Central Control Unit, the REACT5000M for remote activation, control and monitoring of multiple THPSS devices in a robust system for providing emergency alerting capabilities to wider areas.
The REACT5000M is simple to use and easy to operate.
It supports multiple communication pathways including UHF/VHF radio and IP communication so that it can be customized for any situation.
It is protected with light-weight rugged casing specially designed for with simple connections for the system communication, and includes a built-in 12 VDC battery to support remote operation during any emergency, even when AC power is lost.
All of the equipment required for a robust and reliable Emergency Warning System can be quickly setup for anyone that needs this in place quickly.
The ease of assembly facilitates relocation to alternate sites as the system can be disassembled, packed and ready for transport rapidly to be used over and over again.