ATI Systems' Next Generation Product Line
Acoustic Technology, Inc. (ATI Systems) has completed the roll out of advanced Next Generation features to the entire Mass Notification System product line.  This includes enhanced security and encryption, as well as faster, more powerful processors. This upgrade also minimizes the number of components, decreasing necessary connections that are often points of failure, thereby increasing equipment longevity. The next generation product line combines ATI Systems' field-proven features with several important enhancements delivering the most advanced solution on the market to date.
When an emergency strikes, effective dissemination of information in a timely manner can be critical. Voice messages can cover a wide area to alert and direct many people in a short time. ATI Systems, with its background in acoustic consulting, is a world leader in providing Mass Notification Systems (MNS), Emergency Communication Systems and Military Giant Voice Systems with superior intelligible voice capabilities, which can deliver the clearest message the longest distance to supply accurate instructions during an emergency situation.
"THE NEXT GENERATION OF ATI MNS PRODUCT LINE IS A GAME-CHANGER WHEN IT COMES TO HELPING ENTERPRISES ACHIEVE THEIR PHYSICAL SECURITY GOALS IN TERMS OF UPGRADING AND MAINTAINING THE MNS," EXPLAINS DR. RAY BASSIOUNI, CEO OF ATI SYSTEMS.
"WE ARE PROVIDING A COST-EFFECTIVE OPTION THAT ENABLES OUR CUSTOMERS TO BECOME MORE EFFICIENT TO ALERT PERSONNEL AND SAVE LIVES."
A typical wide-area voice system consists of several different components, including large outdoor units, indoor units and control options:
Large outdoor units (Giant Voice):

ATI offers the 

High-Power Speaker Station (HPSS)

 to project alert tones or voice messages over a wide area. High power, ruggedness, and reliability are critical.

 

Indoor units:

Mass notification systems typically cover large outdoor areas, but it is important to alert people inside the buildings. 

ATI's Indoor Speaker Unit (ISU)

offers customers intelligent, flexible solutions to handle complicated indoor Mass notification scenarios.

 

Control Options:

A robust communication and control backbone is provided by ATI's award-winning 

REACT5000 Central Control Unit (CCU)

 and 

MassAlert software

, which contains an intuitive graphic display of the entire system.

ATI equipment supports multiple communication options to ensure a reliable system.
Outdoor Solutions: Next Generation of ATI HPSS
The Next Generation HPSS is built upon ATI Systems' Intelligent Control Gateway (ICG), which brings more processing power, additional interfaces, and enhanced protocol support to the rugged outdoor electronic sirens that ATI Systems has been providing for large outdoor warning systems for over a quarter-century.
The ICG utilizes the latest power-optimized, highly-integrated ARM microprocessors to provide higher efficiency, greater connectivity and a better user experience. The feature-rich ARM microprocessor offers an unprecedented number of simultaneous connectivity options, as well as on-chip data encryption and an LCD controller. This saves significant board space, lowers power requirements and enables connected, advanced applications for MNS. The additional CPU power and resources support a modern firmware base with the latest in IP stacks and networking protocols. These networking enhancements include: upgraded security, better monitoring of remote units, improved configurability and IPv6 support.
One of the key features of the ICG is an ultrafast CPU with increased memory. It includes the support for IPv6 and the enhanced security over IP by integrating SSL/TLS security standards including 256 AES, RSA, 3DES, ARC4, SHA1, SHA2, MD2, MD4 and MD5. Another key feature is added network and communication ports including Ethernet, USB, CANbus, RS232, RS485, analog radio and telephone line.
Extremely reliable remote diagnostics are available with the ICG including support for SNMP traps and a secure web-based interface using the HTTPS protocol to make configuration changes and diagnostic. The ICG minimizes the electrical load for longer run times during power outages. The ICG firmware is developed to comply with MISRA C:2012 which is one of the most trusted coding standards to ensure that the running code is safe, reliable, error-free and has no vulnerabilities that can lead to devastating consequences for the safety and security of our system.

In the Next Generation HPSS, an ICG controls one amplifier for a 1600-watt unit or two amplifiers for a 3200-watt unit. As with the previous generation, the HPSS features either four or eight 400-watt speaker heads, which are carefully engineered for voice intelligibility over large distances. ATI speakers have an advantage as they can be aimed or tilted, focusing the sound in areas where it is desired while reducing spillover into neighboring areas. The stainless-steel enclosure contains a NEMA 4x rated section for the electronics and vented shelves for four 12-volt batteries. 
The Next Generation (NG) HPSS electronics feature modular construction allowing for flexible configuration and quick replacement of modules. All circuit boards are conformally coated for extra protection in rugged environments. This offers a wide degree of power and modularity, making the ATI NG HPSS a world leader in giant voice mass notification technology.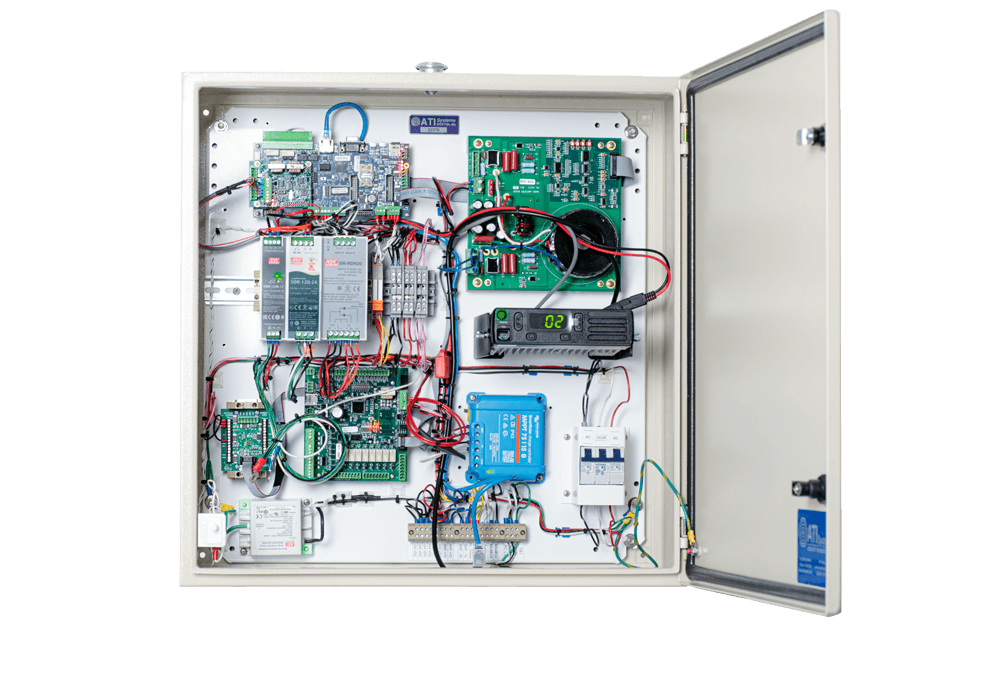 The Next Generation of the HPSS includes improved power supplies:
A more efficient AC charger with universal input (no rewiring for 110/220-volt AC).
A solar option featuring a modern solar charge controller supporting Maximum Power Point Tracking (MPPT) and an optional Bluetooth dongle for monitoring solar parameters.
In the event of a power failure, the batteries can support up to a week of standby time followed by at least 30 minutes of activation.
Outdoor sirens provide warning over a wide area. For example, large outdoor systems can cover hundreds of square miles in the event of a tornado warning or emergency alerting in proximity to a nuclear plant. However, many applications such as colleges, industrial parks and military bases, also need the ability to alert people inside buildings. Intelligence, flexibility, and configurability are important in these applications.
With this in mind, ATI's Indoor Speaker Unit (ISU) was designed to accommodate a range of options that support a wide variety of user requirements. The ISU, like the HPSS, features the new ICG, and can directly drive up to 400 watts of speakers. It can also interface to PAs and Fire Alarms to leverage existing in-building systems. The ISU is available with an optional strobe power supply that includes synchronization between strobes, as is required in many circumstances.
ISUs can be controlled and monitored remotely or locally. They can be controlled and monitored entirely from a remote Control Station (CS) or Central Control Unit (CCU). ISUs can also be equipped with one or more ATI Local Operator Consoles (LOCs) for local activation. The LOC is typically mounted inside the ISU door but can also be wall-mounted. It is used for local control, monitoring, and activation. It can also be used for locally controlling other ATI MNS units such as an HPSS or PA unit.
Outdoor Solutions: Next Generation of ATI HPSS
A Mass Notification System is only as good as the control and communication system linking the Central Control Stations with the field units.
The CS provides a centralized location for activating, controlling and monitoring all system equipment. The CS also has the ability to broadcast live public address and initiate pre-recorded messages and siren tones. Each CS consists of a PC with Windows-based MassAlert® software and the REACT5000 CCU. The software provides an extremely user-friendly, graphics-based interface to display a detailed map of the county, facility, base or campus with color-coded icons to visually indicate the location and status of the sirens and remote units.
The latest version of ATI's Central Control Unit (CCU), the REACT5000, supports 25-watt UHF/VHF radios allowing ATI Control Stations to communicate with HPSS several miles away with no reliance on third-party infrastructures, such as cell towers or Wi-Fi access points.
Cellular, satellite, or various forms of IP can also be used for system communication. ATI supports multiple communication paths in parallel for customers interested in the highest system reliability and redundancy.