ATI Enhancements for Warning Systems of Critical Applications
Recent developments in regards to hacking and false activation necessitate the need to have secured communications that offset human errors that can cause false activations. ATI has developed state-of-the-art technologies to address these vulnerability concerns.
Secure Communications
Anticipating the potential for hacking vulnerabilities, ATI has designed systems for many years that incorporate increasingly advanced security protocols to prevent attacks. Many older systems include few, if any, of the advanced security features ATI can provide. All ATI command packets (including those sent over radio) are protected by several security features, now including encryption with Advanced Encryption Standard (AES).
ATI's proprietary system control software, MassAlert®, is designed to prevent intrusion and to secure the communication links to warning systems in the field.
MassAlert® employs a credential hierarchy to ensure users and administrators only have access to appropriate functions.
Also, storage of critical system data is encrypted and ATI's remote unit controller hardware includes watchdogs on program operation and Cyclical Redundancy Checks on stored program code.
Finally, newer ATI sirens have an updated IP stack that includes modern security options, such as Transport Layer Security (TLS) for protection of communication running over IP links such as Ethernet, fiber optics, Wi-Fi, or satellite.
Many newer modems and radios include their own security and encryption options which run all the way to military grade in higher end units.
No one security scheme is appropriate for all possible communication backbones, but ATI can work with customers to maximize security for their system.
False Alarms Caused by Human Errors
To avoid false alarms or catastrophic human errors, ATI's MassAlert® software adopts a "two-point" validation concept. This design is to prevent accidental system activations by a single individual.
ATI developed a unique solution to be able to provide a clear, intelligible direction to the public to protect them in an emergency situation, such as active shooter, a weather emergency or a manmade disaster.
"ATI's various MNS components are capable of providing highly intelligible, lifesaving instructions and directions to the local populace," remarked Dr. Ray Bassiouni, president and CEO of ATI Systems.
Also, he added, "When every second counts, the powerful, and highly intelligible multi-language voice broadcasts from ATI's indoor/outdoor sound equipment ensures that emergency communications are heard and understood over large areas, even inside cars and buildings."
ATI has developed systems for many applications with a great degree of success. Key applications include:
ATI has provided emergency alert sirens/ warning systems for several communities such as:
Hudson County in New Jersey
Transportation hubs like Hoboken Terminal
Exchange Place in Jersey City
The Port Imperial ferry terminal in Weehawken
And in other highly populated areas of the county
The system utilizes a high-security communication scheme to prevent unauthorized activation.
ATI is currently working with San Francisco to upgrade their system, installed in 2005, to include the latest security features.
ATI has implemented indoor and outdoor warning systems on numerous campuses, such as:
University of Massachusetts
Harvard University
These systems are able to provide immediate alerts to students, faculty, staff, and visitors in the event of an emergency by providing clear intelligible directives.
Protection of Critical Infrastructure
ATI Systems provides audio and visual equipment to protect critical infrastructure to such places as the construction site of the World Trade Center.
This notification system included audibility and intelligibility systems to the ATC Towers 1, 2, 3, and 4
The Vehicle Screening Center (VSC)
The PATH Transportation Hub, and
The WTC Memorial and chiller plant.
Given the sensitive nature of the site as well as its surrounding residential and professional neighbors, this system achieves a minimal amount of sound and visual spillover to the community.
This is attained by designing the audio system to project sound into the site from the perimeter rather than from the center outward.
Portable & Mobile Mass Notification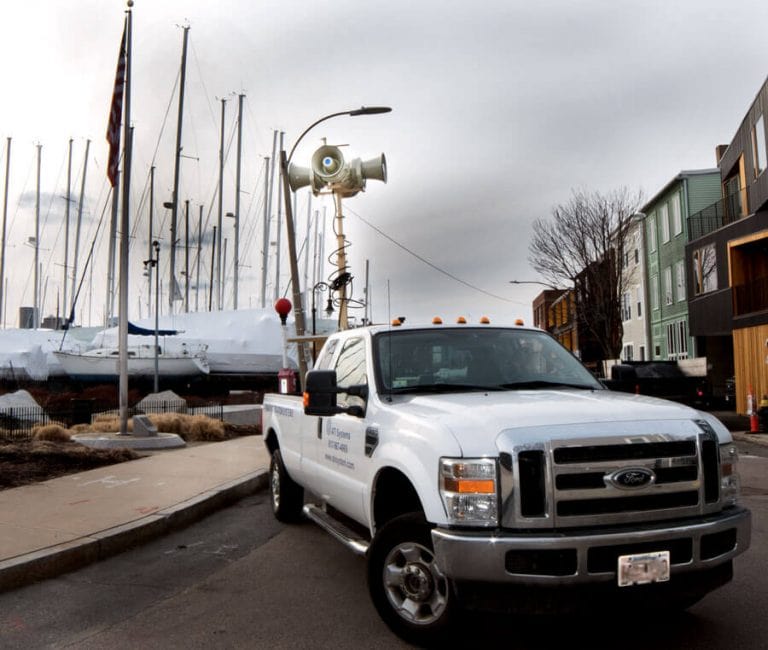 ATI Systems has deployed portable and mobile mass notification system to many customers around the world including several military bases and the City of Boston.
A portable or mobile unit is a great tool for the Boston Police Department and the Massachusetts State Police to alert citizens about severe weather emergencies or large-scale accidents.
In addition, the unit can be used for crowd or riot control.
The need for this alerting capability was highlighted by events during the 4th of July 2012 festivities.
During that event, State officials evacuated the Esplanade as a potentially violent thunderstorm headed toward the thousands of people crammed into the area for the Boston Pops concert and fireworks.
The crowds were sheltered at the Storrow Drive tunnel and the Hynes Convention Center garage during the storm.
ATI emergency mass notification systems
After the National Weather Service declared the area safe again, State and Boston police began letting people back onto the Esplanade.
Throughout the incident, attendees were confused about what was happening, what actions they should take or whey they should go.
This would have been an ideal situation to employ the ATI Mobile High Powered Speaker Station (MHPSS).
Tunnel Voice Alert & Radio Re-broadcast
ATI installed voice alert and radio re-broadcast systems at the Ohio River Bridge East End Crossing Tunnel.
These systems use IP communication to provide safety, evacuation messaging, and emergency services radio re-broadcast systems in the event of an emergency.
During emergencies, this system will initially allow for intelligible live PA.
Achieving reasonable and effective speech intelligibility in a tunnel presents a clear challenge to the design of an adequate PA system.
A tunnel environment is highly susceptible to ambient noise and echo, which can significantly affect the performance of a PA system.
Ideally, PA speakers should have a wide bandwidth of 125 Hz to 8 kHz sound wave frequency and sufficient speaker power to provide sound levels 15 dB above the complex tunnel background noise.
This performance level is considered to be the minimum required for adequate speech transmission according to NFPA 72.
The speakers project sound longitudinally down the tunnel. Each speaker can provide up to 400 watts of acoustic power in order to overcome the traffic and ventilation noises.
Speakers are positioned along the centerline of the tunnel and aimed opposite to the traffic direction.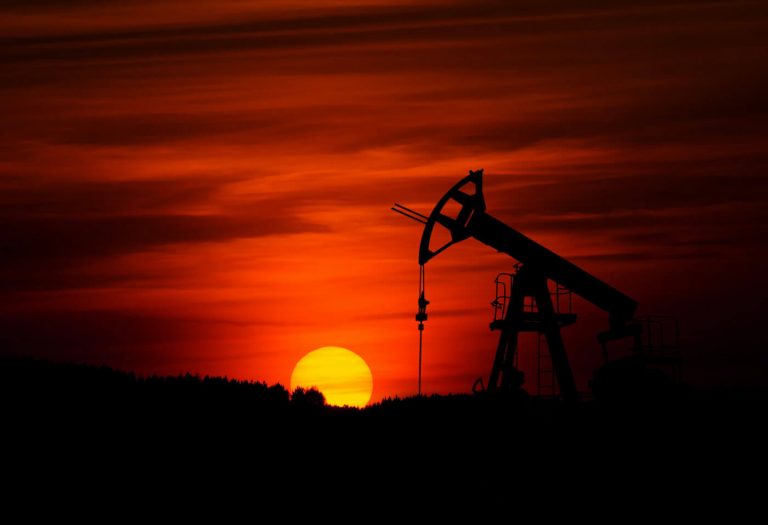 ATI has helped many clients in the Oil & Gas Industry improve the safety of their plants and comply with Occupational Health and Safety Administration (OSHA) regulations.
OSHA 1910.165: Employee Alarm Systems, stipulates that employers provide an emergency warning system so that employees can safely escape danger in the workplace.
This can be particularly difficult in industrial sites with high noise levels, which is often the case in the oil and gas industry.
Also, ATI Systems is in compliance with NFPA 72 for Mass Notification Systems and the Americans with Disabilities Act (ADA).
When providing a system for CITGO's Lake Charles Refinery ATI identified the high-noise areas and conducted a comprehensive acoustic analysis of the site.
The analysis was used to evaluate voice and tone coverage and find the optimal location for each speaker station to ensure clear, intelligible voice messages could be heard throughout the site.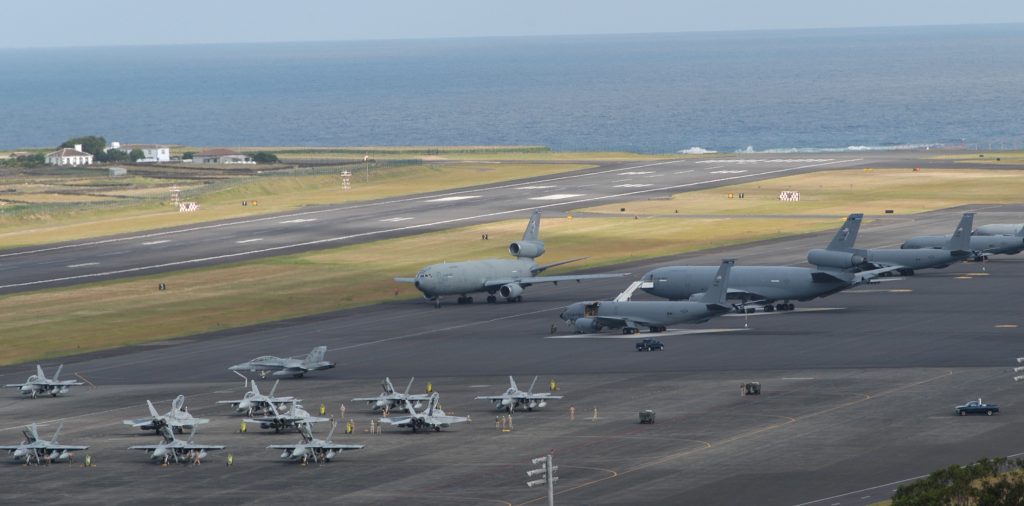 The US Department of Defense (DoD) is very concerned about safety issues and has issued Unified Facilities Criteria 4-021-01: Design and Operation of Mass Notification Systems to take advantage of all available technologies to ensure proper notification.
For example, Camp Zama, a US Army post located in Japan, hired ATI to provide a reliable Mass Notification System capable of alerting people in case of emergency.
This was an important function since the area has been subject to both earthquakes and terrorist attacks in the past.
A major requirement was to cover three separate areas on the base due to the distributed nature of the facilities.
ATI provided a new outdoor warning system that covers the entire base in case of emergency.
Three independent control stations and three ATI 1600-watt High Powered Speaker Stations (HPSS16) were installed to provide audible tones and voice announcements to designated areas of the base.
Indoor MNS Systems provide the bridge between facility-wide emergency warning notification alerts and indoor buildings, typically using a combination of low-power ceiling and/or wall speakers for hallways and common areas, medium-powered horn speakers for larger areas, and strobes for visual alerting.
ATI offers two solutions for indoor building MNS units:
The Indoor Speaker Unit for buildings where there is no existing equipment, and the Indoor Speaker Unit configured with PA Interface for buildings that have an existing public address or voice evacuation system to broadcast audible alerts from the ATI wide-area MNS.
ATI products include solutions that are UL approved, and UFC and NFPA compliant. 
ATI offers a complete system approach, from advanced design services through ongoing service and maintenance, which ensures long-term investment performance.
By manufacturing and engineering all system devices and system firmware and software in-house, ATI can offer the highest quality equipment at competitive prices.
ATI ensures proper sound coverage and industry-leading voice intelligibility in both outdoor and indoor areas using proprietary acoustic modeling and design.